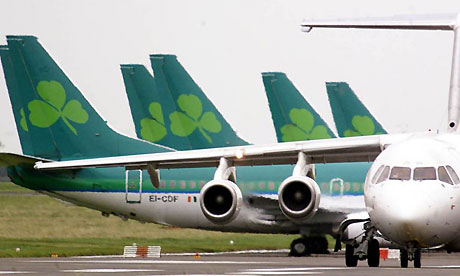 Well 2008 is almost behind us and the Aer Lingus/Ryanair saga continues with no sign of an agreement in the near future. In my opinion the continued blanket refusal by Aer Lingus to consider a takeover by Ryanair is completely unfounded and ridiculous.
Firstly it is clear that sentimentality and politics are getting involved in the situation, where clearly this should not be the case. The "state run company" attitude is still following Aer Lingus around like an unprofitable shadow and is clearly getting in the way of important commercial decisions, like say... dropping an unprofitable route:

"Also at the hearing, Aer Lingus has been told that unless it re-instates a Shannon to Heathrow service, there would be considerable support among TDs for the Ryanair takeover bid. A number of TDs from the Shannon region said there was still a lot of anger there, about the pull-out"

The fact is that Aer Lingus is not a charity, it does not OWE any airport in Ireland anything, the airline should be able to make commercial decisions without having TDs from the Shannon area interfering and I have a feeling that a management headed up by Michael O'Leary wouldn't stand for this constant interference from these irrelevant parties.

My second point of contention with the anti-Ryanair takeover crowd is their insistence that the takeover bid "significantly undervalues Aer lingus":

Ryanair says the proposal represents a premium of about 28% over the average closing price (€1.09) of an Aer Lingus share for the 30 days to November 28. It also represents an premium of about 25% over the closing price of €1.12 of an Aer Lingus share on Friday.

Given that Ryanair offered 25% over what the market values Aer Lingus at, I find it bizarre and absurd that someone would argue the bid "undervalued" the company, again this act of denial of financial reality is another example of the complete ignorance of the Aer Lingus board as to the state of their company.
Some interesting facts from Finfacts.ie:
Since 2006, when Aer Lingus rejected Ryanair's €2.80 offer, they have:

Spent over €24 million on its defence of Ryanair's 2006 €2.80 offer


Allowed its director's basic annual fee to almost treble from €17,500 to €45,000


Allowed its non-executive Chairman's basic annual fee to increase fivefold from €35,000 to €175,000


Increased short haul fares by 7% to €94Increased fuel surcharges 5 times to a current average of €75 per sector


Aer Lingus' forecast operating losses for 2008 and again in 2009

In summary I suppose I would like to tell the Aer Lingus board to get real, a Ryanair takeover is the best option for the continued existence of the company. Its time for Aer Lingus to get the sentimentality of "the good old times", and the politics out of its decision making, its also time to have a management that is not afraid to make tough decisions, and its time for Aer Lingus to get a strategic plan that will ensure the companys long term survival.